16.08.2013 [20:08], admin, Propaganda, komentováno 245×, zobrazeno 46915×
Autor: Pavel Čermák
I neprávem stigmatizovaná menšina homosexuálních nekrofilů konečně získala vědecké důkazy, na základě kterých bude moci dosáhnout plného zrovnoprávnění s občany jiných sexuálních orientací.
Vděčí za to mimořádně pečlivému vědci C. W. Moelikerovi z Natuurmuseum Rotterdam, který případ homosexuální nekrofilie u ptáků precizně zdokumentoval a následně publikoval v článku: 
"První případ homosexuální nekrofilie u kachny divoké Anas platyrhynchos (Aves: Anatidae)".
C.W. Moeliker pracuje v budově muzea v Rotterdamu, jehož prosklená stěna je příčinou častých úmrtí ptáků v důsledku nárazů. Pátého června 1995 byl právě ve své kanceláři označené na následující fotografii písmenem a, když uslyšel mimořádně prudký náraz do skla (místo je označeno písmenem b). Okamžitě seběhl po schodech dolů, kde spatřil kačera kachny divoké (březňačky), ležícího bez hnutí na břiše v písku (písmeno c).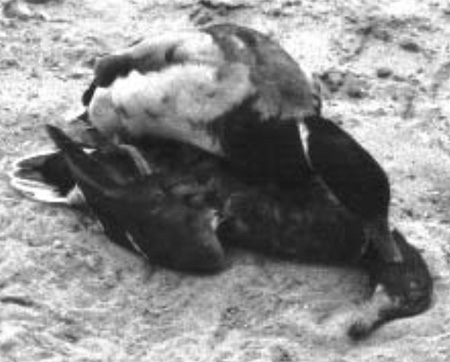 Další vývoj událostí C. V. Moelicker podrobně popisuje:
"Vedle zjevně mrtvého kačera byl přítomen další samec kachny divoké (s plně dospělým opeřením a bez jakékoli viditelné stopy pelichání). Po dobu asi dvou minut silně kloval do zad, základny zobáku a většinou do zadní části hlavy mrtvé kachny divoké, potom vylezl na mrtvolu a začal s velkou silou kopulovat, zatímco téměř neustále kloval do zadní části hlavy. Spíše udiven jsem pozoroval tuto scénu z těsné blízkosti za oknem až do 19.10 hod. Během této doby (75 minut!) jsem pořídil několik fotografií a kačer téměř se téměř nepřetržitě pářil s jeho mrtvým druhem. Slezl dolu jenom dvakrát, zůstal blízko mrtvého kačera a zobal do krku a ze strany do hlavy, než naskočil znovu. První přestávka (v 18.29 hod.) trvala 3 minuty a druhá přestávka (v 18.45 hod.) trvala méně než minutu. V 19.12 hod. jsem přerušil tuto krutou scénu. Nekrofilní kačer jen neochotně opustil svého partnera k páření: když jsem se přiblížil na vzdálenost cca. pěti metrů, tak neodlétl pryč, ale jednoduše poodešel několik metrů a slabě pronesl pár dvoutónových zvolání "raeb-raeb" (konverzační volání Lorentz 1953). Já jsem zabezpečil mrtvého kačera a opustil muzeum v 19.25 hod. Kačer byl stále přítomen na onom místě, volal raeb-raeb a zjevně hledal svou oběť (která v tu dobu již byla v mrazáku)."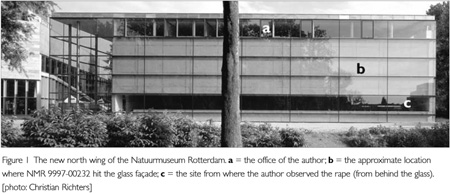 Mrtvý kačer byl následně pitván, aby byla vyloučena možnost, že se jedná o nějakého hermafrodita či intersexuála. Autor dále zmiňuje, že u kachen divokých bylo popsáno heterosexuální i homosexuální znásilnění. Nekrofilie byla dosud popsána pouze heterosexuální (Bagemihl 1999). Přínos tohoto pozorování tedy spočívá v tom, že byla poprvé zdokumentována také homosexuální nekrofilie. Sexuální menšině lidských homosexuálních nekrofilů se tak dostává do rukou cenný důkaz o výskytu této sexuální orientace u zvířat, který může podobně jako u prostých homosexuálů významným způsobem přispět k jejich zrovnoprávnění.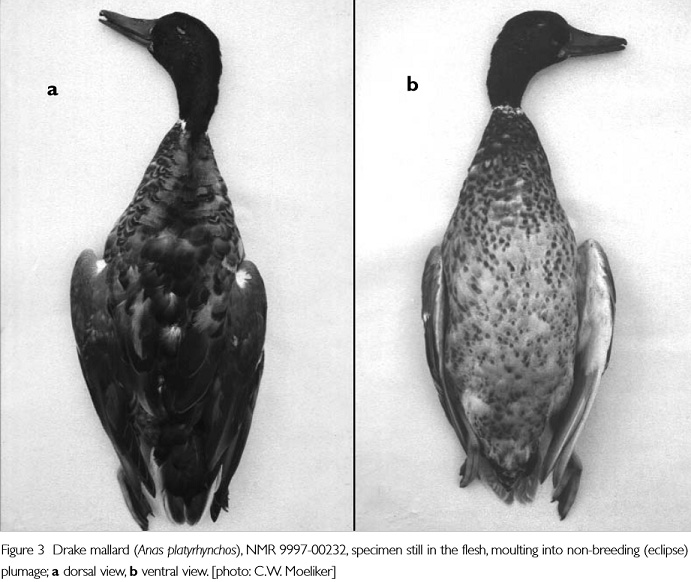 Bystrý intelektuál liberálního ražení jistě hned přijde s námitkou, že mrtvý kačer nedal svému soukmenovci souhlas s kopulací. Na to může homosexuální nekrofil pohotově odpovědět, že mouchy masařky se ale také jistě dopředu nezeptaly, zda do jeho mrtvoly smí naklást svá vajíčka, a že v přírodě se na taková pravidla nehraje. V tuto chvíli ale liberálnímu intelektuálovi překvapivě rychle dojde, že v pravidla platná v říši zvířat nelze jednoduše aplikovat na lidskou společnost, a namítne, že v současné společnosti se vše odvíjí od lidské vůle a souhlasu, počínaje společenskou smlouvou až po celý konstrukt demokracie.
Ale i pro tento případ je možné homosexuálním nekrofilům poradit jednoduchou obranu. Stačí založit registr osob souhlasících s posmrtným použitím jejich mrtvoly (kadáveru) či jednotlivých orgánů pro potřeby sexuálních orgií, homosexuálních, heterosexuálních či dokonce kanibalismu. Do tohoto registru by se každý ochotný dárce mohl zapsat na základě pouhého ověření podpisu na obecním úřadě a předsednictvo nekrofilní komunity by na základě schváleného pořadníku přidělovalo mrtvoly místním organizacím. Myslím si, že by homosexuálním nekrofilům mohli ochotně vyjít vstříc i příslušníci jiných sexuálních menšin, kteří neustále posunují hranice sexuálních výbojů k novým metám. Dokonce je možné, že by je představa účasti na posmrtných orgiích mohla naplňovat metafyzickou vizí nesmrtelné existence v jakémsi pansexuálním pekle. Potom by se pro ně zápis v registru kadáverů mohl stát atraktivní alternativou k peci krematoria. Mrtvol od souhlasících jedinců by potom bylo více než dost pro všechny zájemce. Vzhledem k rozšíření AIDS, užívání drog a sebevražd mezi příslušníky některých sexuálních menšin by byl nepochybně zajištěn i dostatečný přísun kadáverů nezohyzděných stářím.
Přidat komentář
Komentáře